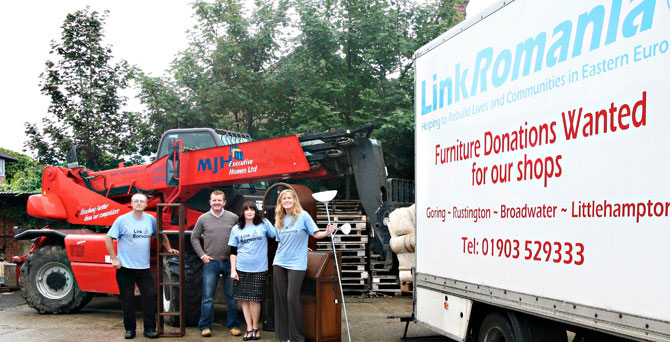 Back
22nd July 2011
Old furniture for new at MJH Executive Homes' Tamarisk development in East Preston!
When you move into a new home, it's understandable that you crave new furniture to suit your new lifestyle. Bearing this in mind, MJH Executive Homes is currently selling two show apartments, complete with furniture, carpets, curtains and blinds* at Tamarisk, East Preston.
Moving into these new apartment will be really easy – in fact, the only problem that buyers will face will be what to do with their old furniture. MJH Executive Homes has a solution; the company is supporting Link Romania, a local charity with four shops who are desperately in need of furniture donations!
"Some of our customers comment that their furniture was designed to last a lifetime but when they move into a new, clean apartment they feel like changing their interiors and having a whole new look. They say their furniture is too good to take to the tip, but they're at a bit of a loss what to do with it," says Mike Hartnett, Managing Director of MJH Executive Homes. "Link Romania is desperate for good quality furniture – and the charity will even come out and collect in the local area."
"At Link Romania, we are committed to fighting poverty in some of Eastern Europe's poorest areas," comments Lisa Hector, from Link Romania. "We focus on people struggling to survive in villages that lack basic amenities, particularly vulnerable children who are marginalised and families and individuals who are at the mercy of authorities and circumstances over which they have no control."
"Our projects include providing food three times a week to the elderly in Dancu, Moldova who have no income and no way of supporting themselves," adds Lisa. "We are also helping to build a youth and community centre in Dancu which will help provide classes for children with special needs, vocational training for the young, social care and job creation. The site will also include a polytunnel for growing and selling vegetables to cover the centre's running costs."
Link Romania will be delighted to hear from you, whether or not you're moving into a new home. Anyone with furniture or similar items to donate, should contact Lisa Hector at the charity on 01903 529333 or email her on lisahector@linkromania.co.uk.
Tamarisk is a delightful development of just 21 apartments in the heart of East Preston. Each new home is carefully designed and fitted with a high quality specification including an electric oven, hob, cooker hood, dishwasher, fridge-freezer, washer/dryer, microwave oven and granite work surfaces in the kitchen. There's also a generously-proportioned living/dining room in each of the apartments, two bedrooms, both with fitted wardrobes and a bath/shower room with fully tiled walls, a vanity unit and heated towel rail.
Those who seize the opportunity to buy now will be able to move straight into a beautifully designed apartment completely fitted with furniture, including sofas, dining table and chairs and beds ; carpets, curtains and even the accessories are included! For further information on Tamarisk or MJH Executive Homes, please visit the website on www.mjh-homes.co.uk.