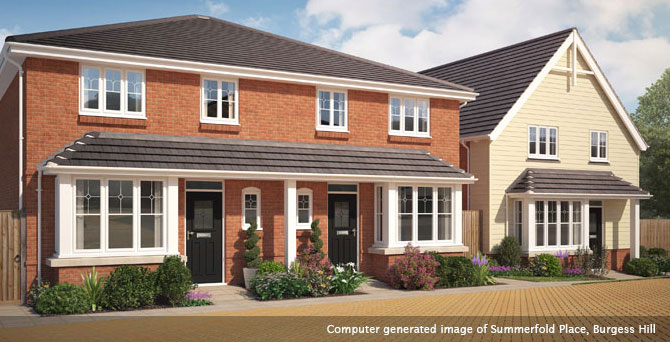 Back
27th October 2015
Look at our plans before making your own: register your interest in Summerfold Place, Burgess Hill
If you're thinking about moving to Burgess Hill in the next few months, make sure you take a look at the plans for MJH Executive Homes' latest development, Summerfold Place just off Leylands Road in Burgess Hill.
Having completed construction work on its award-winning Fivens Place development in Horsham, MJH Executive Homes is turning its attention to Burgess Hill. Located in a private cul-de-sac just off Leylands Road, Summerfold Place will comprise just six detached and semi-detached family homes. Each new home comes complete with a garage, parking and a garden – and some gardens are fringed with mature trees.
The new development is ideal for commuters heading out of south and south west London in search of a home that offers plenty of space, a garden and a better lifestyle. Summerfold Place is located close to Wivelsfield station, Burgess Hill town centre, the motorway network and London's Gatwick airport.
The fixtures and fittings in the new homes at Summerfold Place will be of the high standard that has earned MJH Executive Homes an excellent reputation as a housebuilding company that pays careful attention to detail in terms of design, build and finish.
Anyone interested in the new Summerfold Place development is welcome to make an appointment to view the show home at Fivens Place, Horsham, to view the style and finish of a similar house type and to register interest in the development with the Sales Manager.
"We are due to commence construction on Summerfold Place shortly and by registering interest at this early stage, potential purchasers will have plenty of time to market their own homes before the new homes are ready for occupation," comments Michael Hartnett, Managing Director of MJH Executive Homes. "Our Sales Manager, Geraldine Nightingale, will be on hand to offer help and advice to those who are considering selling their home to move to Summerfold Place. Geraldine is also more than happy to show prospective purchasers around the show home at Fivens Place which will give an idea of the type of homes we will be building at Summerfold Place."
For more information on Summerfold Place, Burgess Hill or Fivens Place, Horsham or for details on MJH Executive Homes, please contact the sales team at Fivens Place on 01403 263 286, from 10 am to 5 pm, Monday to Friday inclusive. It is possible to view on Saturdays by appointment.