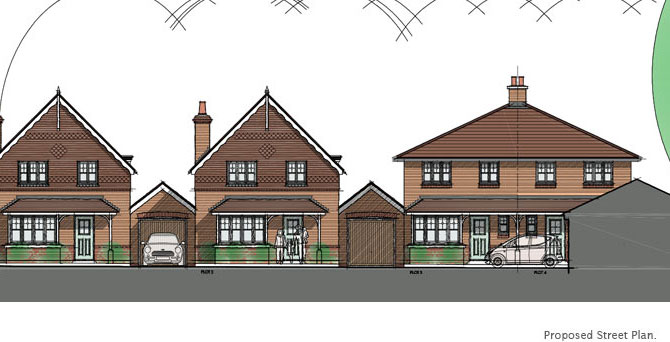 Back
20th April 2014
MJH Executive Homes appoints Henry Adams to market new Horsham development
Sussex-based house builder, MJH Executive Homes, has appointed Henry Adams to market its latest development at North Heath Lane, Fivensgreen, Horsham.
The new development will comprise just 11 beautifully-designed detached and semi-detached houses in an exclusive enclave, just off North Heath Lane. The show home will open in Autumn 2014 and the first homes will be completed in Winter 2014/2015. Although work has only just started on site, MJH Executive Homes and Henry Adams are already receiving enquiries.
"This really is a superb site," comments Howard Ball, Partner of Henry Adams. The location is ideal, situated close to local schools and amenities, coupled with excellent transport links and easy access to the town centre. We are already getting a lot of interest from potential buyers who have tracked us down through the planning application – and have a list of house hunters, so we don't expect a long marketing programme. Buyers need to register their interest now to avoid disappointment."
"We have spent the last few months acquiring development land in excellent locations – and this will be the first of the new schemes to come to the market," says Michael Hartnett, Managing Director of MJH Executive Homes. "This new development offers an opportunity for those who appreciate all the benefits of buying a new home but don't want to be on a large development. The fixtures and fittings selected for this new development will be of the highest quality – something that MJH has become known for over the years."
"We're delighted to be working with Henry Adams on this new project," adds Michael. "The sales team at Henry Adams is extremely helpful and efficient – and we're sure that the good working relationship between our companies will benefit new home buyers."
For further information on the new development at Fivensgreen, please contact Henry Adams' Horsham office on 01403 253271.