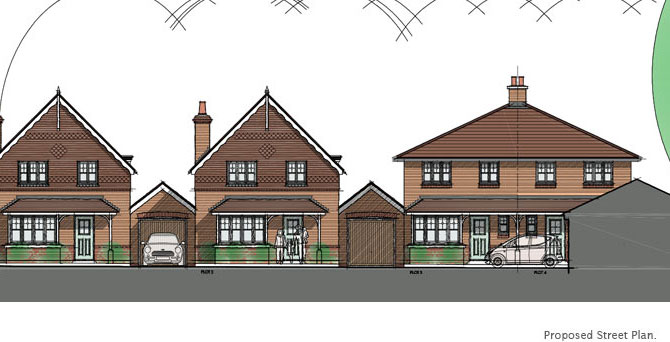 Back
16th April 2014
New development for MJH Executive Homes in Horsham
MJH Executive Homes has achieved planning permission for its latest development in Fivensgreen, Horsham. The new scheme will comprise just 11 beautifully-designed semi-detached and detached homes with garaging in a landscaped setting on North Heath Lane.
"We have already received numerous enquiries and we haven't even put hoardings or signage in place as yet," comments Mike Hartnett, Managing Director of MJH Executive Homes. "This development is sure to prove popular given the location, the sense of privacy and the style of the new homes."
"New development is changing the face of Horsham, bringing a new vibrancy to the area but what's special about our new development is that it is a small, exclusive development, in a really pleasant residential area with the local primary school within a few minutes' walk. "
The new development will feature the high quality specification for which MJH Executive Homes is renowned. Mike Hartnett takes responsibility for the selection of the contemporary fixtures and fittings and, indeed, is very 'hands-on' in terms of the development as a whole.
"I take pride in the developments that we build," adds Mike. "I want to be able to visit our completed developments in years to come and still feel the satisfaction that comes with knowing we've done a good job and that the owners have been happy with their properties."
For further information on the new homes at Fivensgreen, please contact the selling agents, Henry Adams in Horsham on 01403 253271.